Keystone Jack Face Plate
We offer a qualitative range of keystone jacks Face Plate to our reputed clients. They are available in various specifications to suit the requirements of the clients.
Keystone Jack Faceplate
Keystone Jack Faceplates play a vital role in the electrical and signal wiring of various industrial, corporate and domestic wiring systems. These keystone jack faceplates are used generally for the purpose of providing LAN connectivity throughout the area through LAN wires. These jack faceplates provides a convenient and efficient manner of LAN wire connectivity to the wall boards. We are one of the most proficient companies for the manufacture, supply, trade and export of these high class electrical equipments hence we use always one of the most exclusive and supreme quality materials for the manufacture of our products.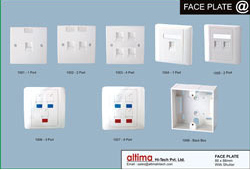 Features:
Excellent material quality
Long lasting durability
Convenient to use
Safe and reliable
Cost efficient
Provided with the covering lid while the port is not in use
Keystone Jack Face Plate II
In the range of our supreme quality electrical equipments are also included these most exclusive kinds of keystone jack faceplate II. These are one of the most efficient and reliable equipments which are required for providing the provisions for LAN wire sockets and ports throughout the wiring system across a building or a room. We are one of the most trusted and reliable companies for the manufacture supply, trade and export of a wider comprehension of electrical components hence we are providing these jack face plates II to our clients at a very commendable and attractive range of prices.

Features: